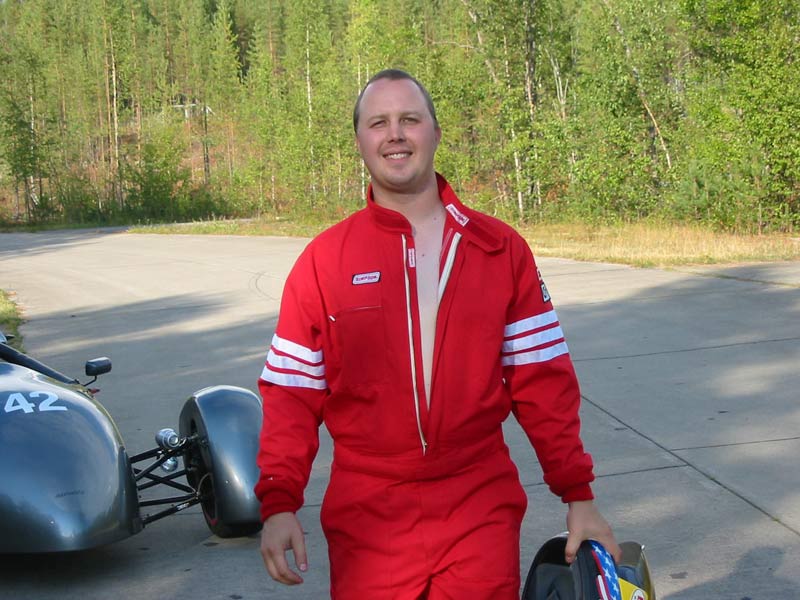 Hi! My name is Micke Fredriksson and I come from Umeå Sweden. This is my website. I hope you find alot of interesting info here on the website about my high performance vehicles.
The Mride T42 turbo trike and the Mride C42 turbo sportscar is almost the same vehicle. I started to build the Mride T42 turbo trike from a clean sheet of paper with my own design through all. When the trike was ready and roadlegal I drowe it one summer, won three trophys at motorshows and took it to several trackdays. It was really fast and the handling really good with minor understeer. 0-200km/h in less then 10sec. and braking 1.06 G with stock road tyres is not bad at all!
Even if everything were almost perfect, I couldn´t stop woundering what it would be with a real high performance formulalike rearend and four wheels. When the winter come in the late 2006, I took the trike apart and started to rebuild it to a real formulalike sportscar. Hopefully the summer of 2007 will be even faster with sticky Toyo R888 Racing tyres, Torsen sprocket driven differensial, 300mm rear brakes, custom driveshafts and uprights, and so on. And of course roadlegal!
Written 2007-03-25 by Micke Fredriksson